Current Issue
Vol. 118 (2020)
Published January 14, 2021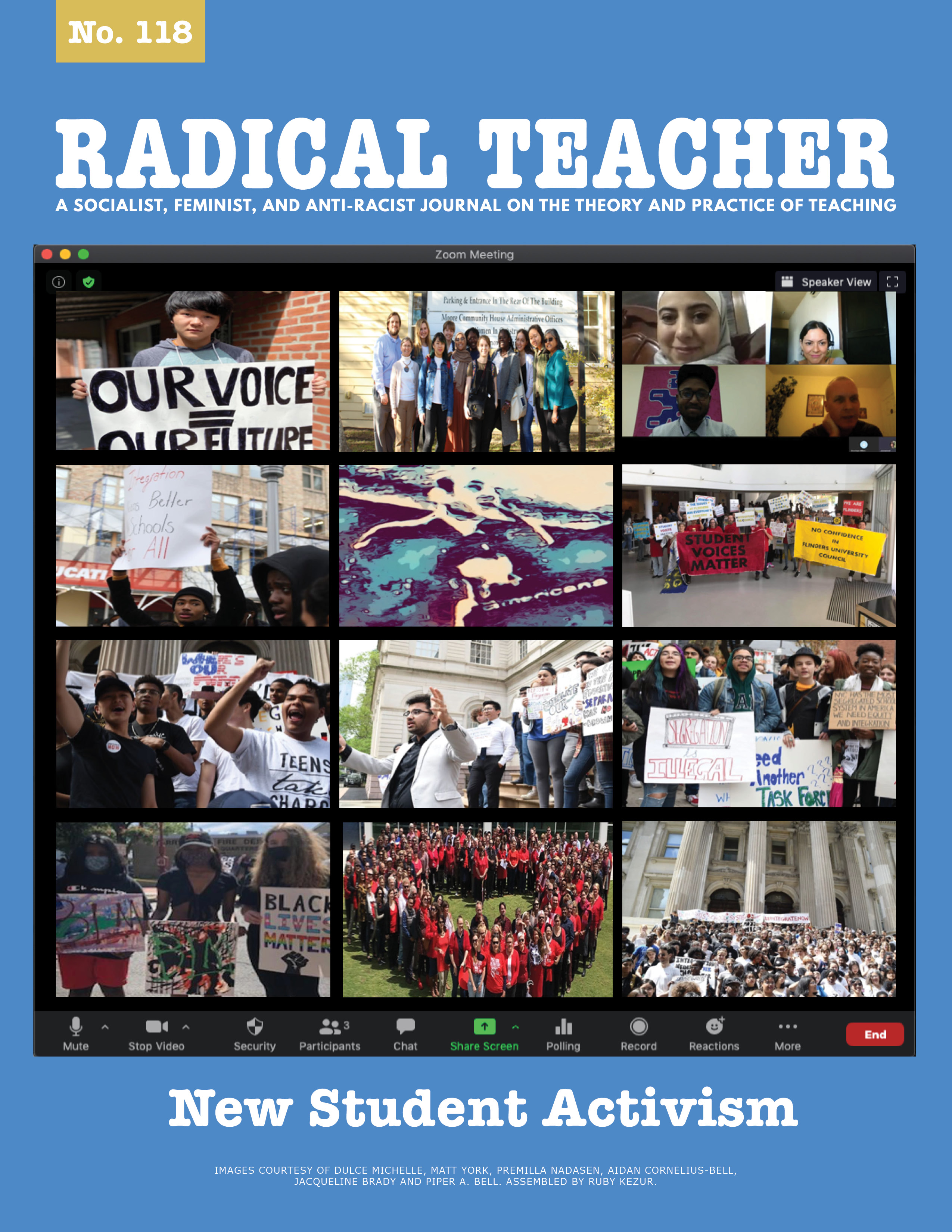 New Student Activism
Teachers and students in schools and campuses across the U.S have seen increases in bigotry and racism, gun violence, student debt, and standardized over-testing at the same time that they have experienced climate catastrophe, and decreases in civil liberties and government protections. And yet, within this dreary and upsetting educational landscape, a growing light seems to shine in the form of an upsurge in organized student resistance. This issue of Radical Teacher explores new approaches to student activism, how progressive educators are teaching about them or toward them.
Announcements
Call for Papers: Teaching Afrofuturism: Race, Erasure, and Corona
This cluster issue of Radical Teacher, "Teaching Afrofuturism: Race, Erasure, and Corona," seeks innovative essays, poems, personal narratives, and creative non-fiction on teaching Afrofuturism as a means to counter various forms of Black erasure, including but not limited to literal, representational, and material erasure(s), during coronavirus. We invite scholars to embrace the dynamic nature of Afrofuturism and submit works that demonstrate its power to influence and shape a future of Black agency and self-actualization by countering erasure. To this end, we ask authors to consider using Dewitt Douglas Kilgore's view of Afrofuturism, as an aspirational "cultural force, an episteme that betokens a shift in our largely unthought assumptions about that histories matter and how they may serve as a precondition for any future we may imagine" as a launching pad. Complete manuscripts are due May 3, 2021.
More…
Deadline Extended | Radicalizing the Liberal Arts: Confronting Race, Racism, and Power in Small College Settings
Radical Teacher is seeking articles that discuss the intersections between Small Liberal Arts Colleges (SLACs) and movements for racial justice. Some liberal arts colleges are bastions of radical teaching, pedagogy, and commitment to confronting racism and power. Historically, liberal arts colleges have served as spaces of specialized learning and innovative pedagogy, which can extend towards the pedagogy of racial liberation.  Some small liberal arts colleges have created academic centers that articulate their commitment to diversity, inclusion, and social justice both on and off campus, such as the Carter G. Woodson Center for Interracial Education at Berea College. Deadline: March 1, 2021.
More…
Call for Papers: Teaching and Migration/Immigration
For a forthcoming issue on on "Teaching and Migration/Immigration," please send inquiries and proposals to Linda Dittmar (lindittmar@gmail.com and Susan O'Malley (susanomalley4@gmail.com)
Complete manuscripts are due January 15, 2021.
More…