Current Issue
Vol. 123 (2022)
Published July 15, 2022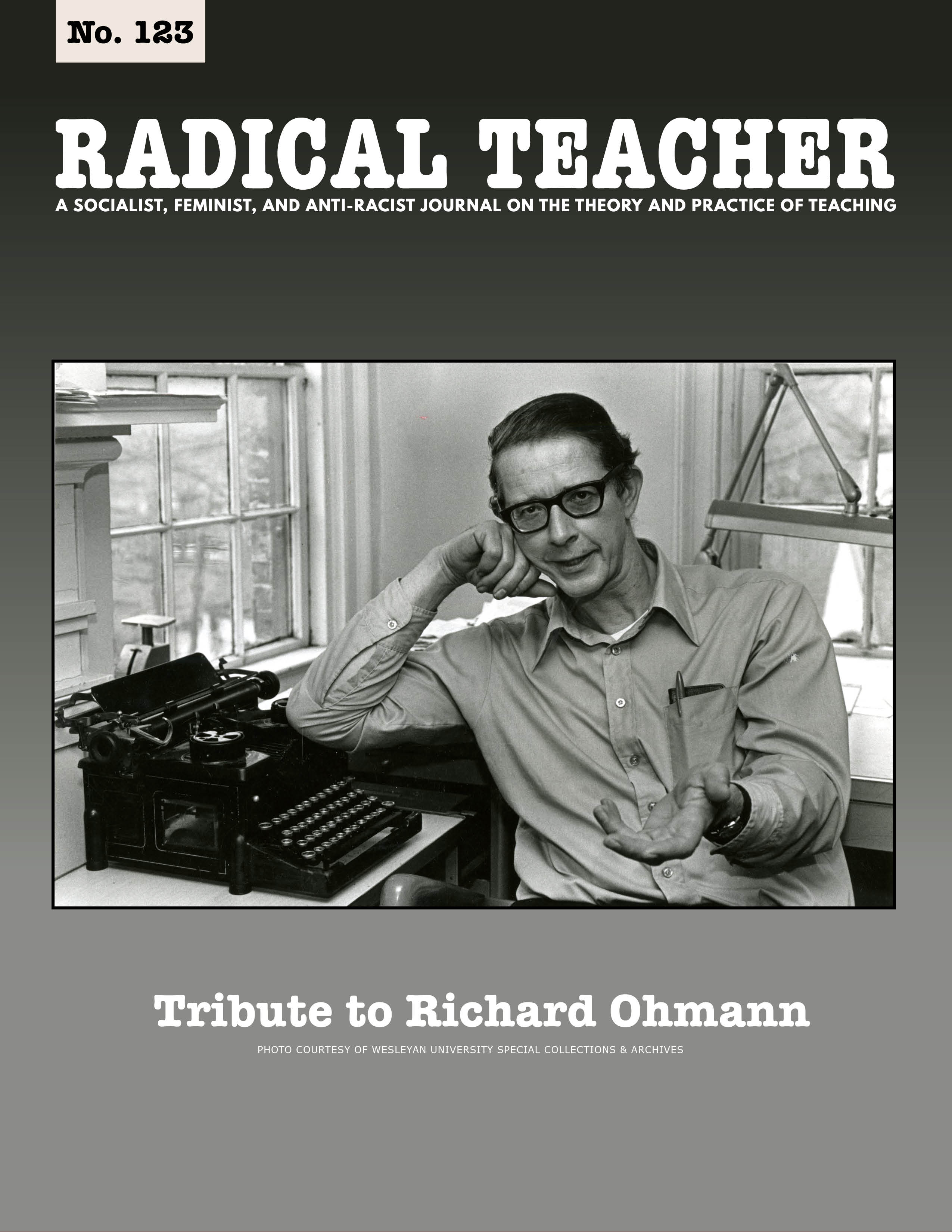 A Tribute to Richard Ohmann
This issue honors the memory of Richard Ohmann, founder and long-time editorial board member of Radical Teacher. You can read a selection from his many writings for the journal and about his long and distinguished career as an English professor at Wesleyan University, as editor of College English, and as the author of English in America, Reading Culture, and other influential works in his obituary in the New York Times. Our purpose in this brief introduction is to share with Radical Teacher readers what he has meant to the journal and to his fellow editorial board members for almost fifty years.
Announcements
Call for Submissions: Teaching About Socialism
The editors of Radical Teacher invite submissions that focus on where teaching and learning about socialism is taking place today. Is there renewed interest on college campuses, and perhaps even in high schools? And with the burgeoning of explicitly socialist activism, to what extent have opportunities for teaching and learning about socialism expanded beyond the confines of the campus and the teacher/student relationship, forging connections with political activism? For questions or possible ideas for articles, please email paul.lauter@trincoll.edu,
susanomalley4@gmail, michael.bennett@liu.edu, and/or mclawson@wesleyan.edu. Deadline 12/12/2022
More…
Call for Teaching Notes for Radical Teacher
Is there a book, film, essay, poem, or story that you've found particularly useful in the classroom and want to share with other Radical Teacher readers? Or has something challenging, encouraging, or frustrating happened in class?  If you think our readers can learn from your experience, we'd like to hear about it.
More…
Call for Poems
Radical Teacher announces a new Poetry feature to appear in each edition of the journal.
More…