Current Issue
Vol. 117 (2020)
Published August 18, 2020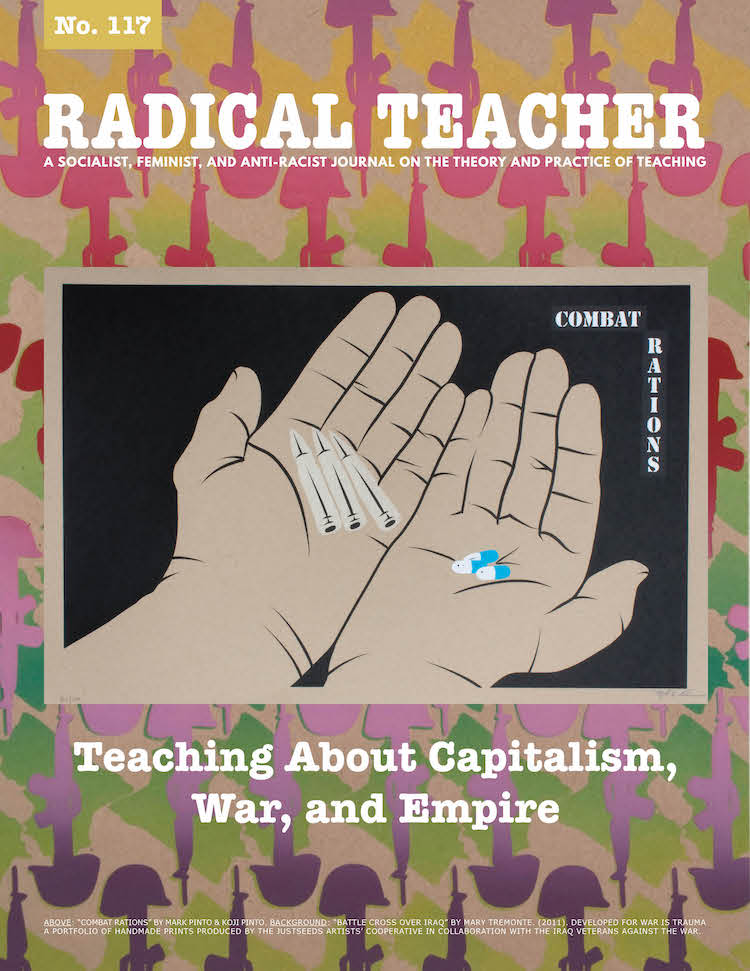 Teaching About Capitalism, War, and Empire
This issue of Radical Teacher focuses on teaching about capitalism, war, and empire. The issue's contributors explore the work of progressive educators who are using pedagogical innovations to help students to connect the dots between the interests of capitalism's global elite, corporate lobbyists, government spending, military contractors, increased wealth and income inequality, processes of racialization, and the militarization and surveillance of everyday life; the military on campus.
Announcements
Call for Papers: Radicalizing the Liberal Arts: Confronting Race, Racism, and Power in Small College Settings
Radical Teacher is seeking articles that discuss the intersections between Small Liberal Arts Colleges (SLACs) and movements for racial justice. Some liberal arts colleges are bastions of radical teaching, pedagogy, and commitment to confronting racism and power. Historically, liberal arts colleges have served as spaces of specialized learning and innovative pedagogy, which can extend towards the pedagogy of racial liberation.  Some small liberal arts colleges have created academic centers that articulate their commitment to diversity, inclusion, and social justice both on and off campus, such as the Carter G. Woodson Center for Interracial Education at Berea College.
More…
Call for Papers: Teaching and Migration/Immigration
For a forthcoming issue on on "Teaching and Migration/Immigration," please send inquiries and proposals to Linda Dittmar (lindittmar@gmail.com and Susan O'Malley (susanomalley4@gmail.com)
Complete manuscripts are due January 15, 2021.
More…
Call for Teaching Notes for Radical Teacher
Is there a book, film, essay, poem, or story that you've found particularly useful in the classroom and want to share with other Radical Teacher readers? Or has something challenging, encouraging, or frustrating happened in class?  If you think our readers can learn from your experience, we'd like to hear about it.
More…