Current Issue
Vol. 119 (2021)
Published April 21, 2021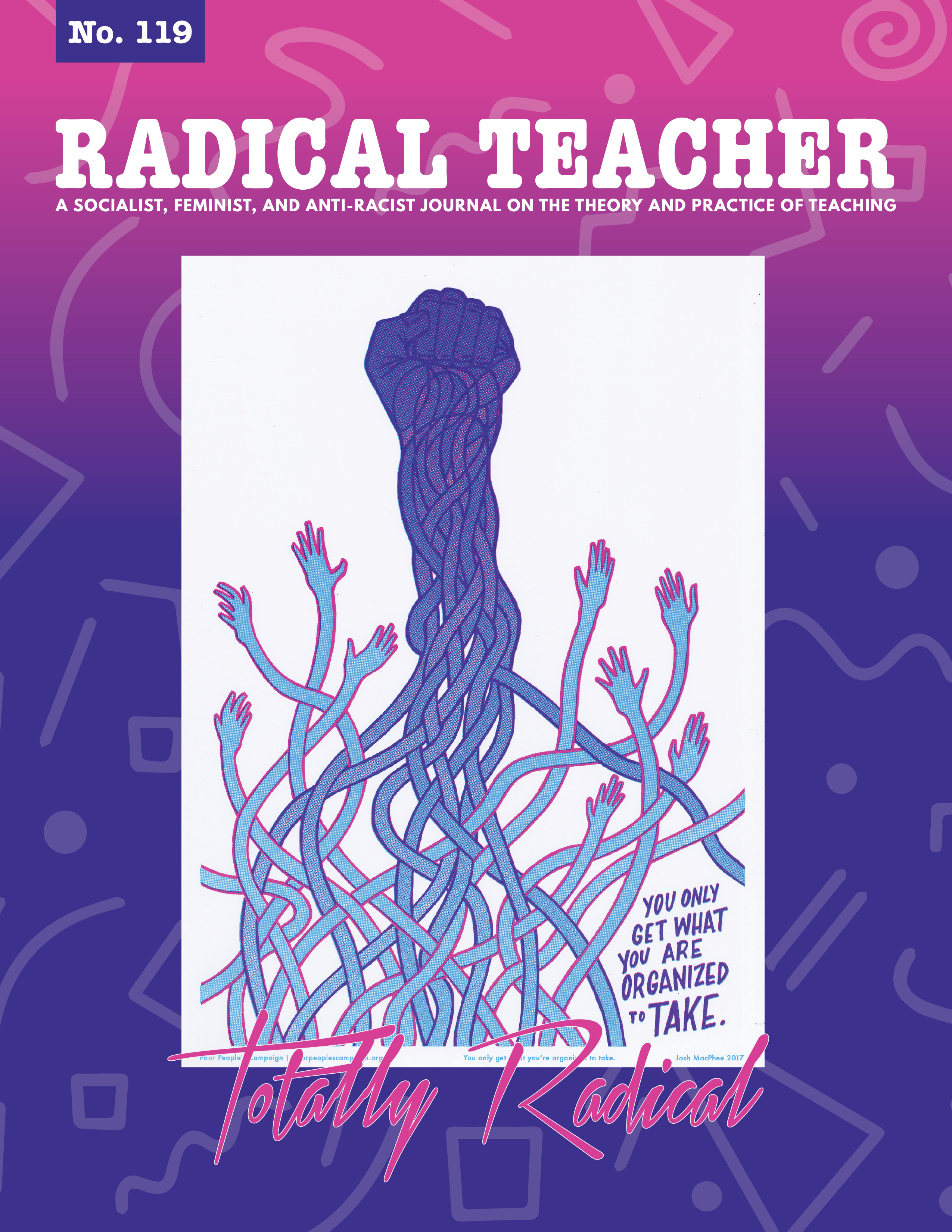 Totally Radical
The title of this issue, "Totally Radical," points to how difficult it has been to find a totally satisfactory (though not totalizing) understanding of radicalism and to the ways in which the term "Radical," starting in the 1980s or earlier, was often drained of its political content. As so often happens with words and concepts in a capitalist culture, "Radical" became a marketing tool.  In this spirit, the issue brings together a collection of articles exploring intersectional analyses in service of the theory and practice of teaching, as well as pedagogical praxis.
Front Cover: "You Only get what you are organized to take" by Josh MacPhee (2017) via Just Seeds.
Announcements
Call for Papers: Teaching Afrofuturism: Race, Erasure, and Corona
This cluster issue of Radical Teacher, "Teaching Afrofuturism: Race, Erasure, and Corona," seeks innovative essays, poems, personal narratives, and creative non-fiction on teaching Afrofuturism as a means to counter various forms of Black erasure, including but not limited to literal, representational, and material erasure(s), during coronavirus. We invite scholars to embrace the dynamic nature of Afrofuturism and submit works that demonstrate its power to influence and shape a future of Black agency and self-actualization by countering erasure. Submission date extended to June 1, 2021!
More…
Call for Teaching Notes for Radical Teacher
Is there a book, film, essay, poem, or story that you've found particularly useful in the classroom and want to share with other Radical Teacher readers? Or has something challenging, encouraging, or frustrating happened in class?  If you think our readers can learn from your experience, we'd like to hear about it.
More…
Call for Poems
Radical Teacher announces a new Poetry feature to appear in each edition of the journal.
More…